狼來了的英文怎麼說? 放羊的孩子英文、狼來了的英文故事、狼來了英文原文、看童話學英文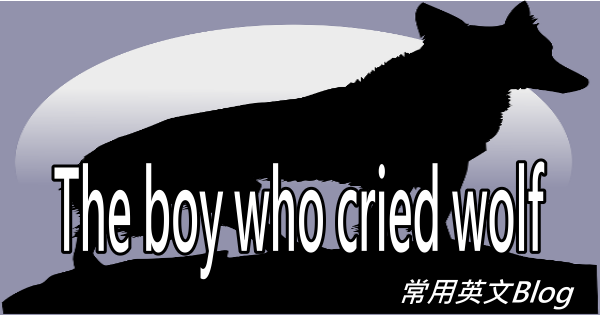 The Boy who Cried Wolf的中文意思是"狼來了的意思,比喻愛說謊的人"!!
The boy who cried wolf --->點擊聽Google英文翻譯發音
Once Upon A Time , There was a shepherd boy ,he sat on the hillside watching the village sheep.
He was bored for a while."Isn'there anything fun to do?"Finally, he had a good idea.
He took a great breath and cried out loud, "HELP!! Wolf! Wolf! The Wolf is chasing the sheep!"
The villagers came running up the hill as soon as possible to help the boy, they want to drive the wolf away.
But when they arrived at the top of the hill,everyone looked around the hill , there was no wolf.
The boy laughed at the sight of their angry faces.
"You were all fooled Ha! Ha! There is no wolf."
"YOu!! Don't cry 'wolf', shepherd boy," said the villagers, "when there's no wolf!" They went grumbling back down the hill.
Later, the boy cried out again, "HELP!! HELP!! Wolf! Wolf! The wolf is chasing the sheep!" again, he watched the villagers run up the hill.
When the villagers saw no wolf again they sternly said,
"Don't ever lie again, boy! Don't cry 'wolf' when there is NO wolf!"The villagers went back to town.
The next day, A REAL wolf prowling about his flock. Alarmed, he leaped to his feet and sang out as loudly as he could, "Wolf! Wolf!it be true,this time!"
But the villagers thought he was trying to fool them again, and so they didn't come.
At sunset, everyone wondered why the shepherd boy hadn't returned to the village with their sheep today.
They went up the hill to find the boy.
"There really was a wolf appeared!I cried out, "HELP me!please !a realWolf!" Why didn't you come?" The boy crying out said..
The boy regretted what he had done. But, it was no use.
A old man putting his arm around the youth, "Nobody believes a liar...even when he is telling the truth!Don't do that again!!"
Finally, The shepherd boy was afraid watching the village sheep all the time and the wolf was happy once.
想看更多兒童英文書推薦: 請到 - 常用英文你才不會忘記Blog、國中、小學必讀英文書推薦
延伸關鍵字:
要如何背單字的方法 、快速矯正英文發音、-常聽到的簡單英文歌、常用的兒童英文學習網站